Throughout the month of February, Clubs celebrated Black History Month by learning about and recognizing the achievements of past and present Black Americans who broke down barriers to make history. We are supporting the next generation of history makers by doing whatever it takes to create opportunities for all young people.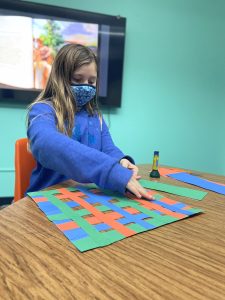 Club members at our Monroe Elementary Site and Lincoln Elementary Site learned about the women of Gee's Bend and created paper quilts to replicate those that the women created with old cloth. The quilts, made by the women of the remote community of Gee's Bend, were originally made to keep themselves and their children warm in their unheated shacks. Over time, the quilters developed a unique style that has been praised by art critics as some of the most miraculous works of modern abstract art. They are now one of the most important contributions to the history of African American arts. Read more about the women of Gee's Bend here.
Club members in Wellington did projects in honor of Alma Woodsey Thomas and Mae Jenison. Alma Woodsey Thomas was the first African American woman to have a solo exhibition at New York's Whiney Museum of American Art and her paintings were displayed three times in the White House. Thomas was known for her abstract paintings and the kids enjoyed making paintings of their own. You can learn more about Alma Woodsey Thomas here.
Mae Jemison was the first Black woman to travel into space. Club members created paper rockets and they watched videos about her journey. Jemison is an extraordinary woman that earned her Doctorate in Medicine, joined the Peace Corps, started her own consulting company, created a nonprofit, wrote books and so much more! Jemison is currently leading a project that works to ensure human space travel to another star is possible in the next 100 years. Click here to learn more about Mae Jemison.